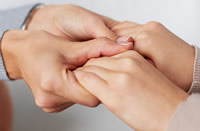 Dr. Christopher Adelman, the medical director of St. Vincent Charity Hospital's Rosary Hall, a treatment facility in Cleveland, is one of 24 physicians in Ohio approved to prescribe Suboxone (buprenorphine/naloxone). Of his 15 patients taking the drug, 11 have remained off opiates, the Cleveland Plain Dealer reported on June 28.
One of those people is Nicole, who had been in and out of  heroin detox 15 times since she first tried heroin three years ago. She hasn't used heroin since she started taking Suboxone in March. '"I've never been clean this long, never since I've been on heroin," she said.
The Food and Drug Administration approved the use of Suboxone to treat opioid dependence earlier this year. Physicians must undergo eight hours of training before they are able to prescribe it, and a single health practice is not permitted to treat more than 30 patients at a time with the drug.
Despite the limitations, Suboxone is an effective alternative to methadone. It can be taken at home, instead of at a special clinic. It is unlikely to be sold on the black market because it contains naloxone; if injected, it causes withdrawal symptoms, so people are more likely to take their pills correctly instead of altering them. It should also take less time for people to wean themselves off Suboxone than methadone. Thus,  success with  addiction treatment with Suboxone  is high and provides an effective alternative drug treatment.
But people seeking the drug may face challenges getting it.
"As far as we know, the only people who are successfully getting people onto the drug in this part of the state are us," said Adelman. Part of the reason is Ohio's somewhat conservative approach to treating opioid dependence, which causes resistance towards funding opioid treatment programs.


But another issue that will impact all states is the 30-patient limit. "There should be some ways to take that limit off of some places like Rosary Hall, or a physician who is really expert in his field," added Adelman.
Nicole, in the meanwhile, hopes Suboxone can help others as it helped her. "It has really saved my life," she said.