One important step in treating the disease of drug addiction is first understanding the causes of drug addiction, so proper help and support can be sought.  Drug addiction is a dark and dangerous path leading to a life that is destructive and empty of everything that a person holds dear or important in his life. Drug addiction, which is commonly known as chemical dependency as well substance abuse, snatches away an individual's ability to function and even think properly. Once he falls into this dangerous habit his whole life revolves around his next fix and the cravings that rack his body all the time. It may be shocking to hear but according to survey reports more than 2.6% people suffer from drug addiction at one time or the other in their life. Substance dependence hinder a person's normal pattern of life and can cause severe problems in their social life, in terms of work or school performance more than that a person also suffers physically and mentally during withdrawal from the substance.
Causes of Drug Addiction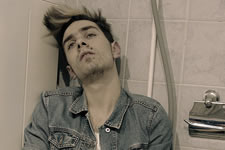 Most of the time drug addiction starts in a seemingly normal way. The most common cause for drug addiction ironically starts quite legitimately. For example, a person suffering for chronic pain goes to a doctor and gets a prescription drug order for oxycontin or Fentanyl. Both these drugs are opiate in nature and apart from providing pain relief they also give a person a feeling of euphoria or a feeling of being high. Long term usage of these prescription drugs brings about a chemical change in the human brain, making a person completely dependent on the drug to continue normally. The drug now becomes a habit and the individual starts taking it more frequently and in higher doses to get high. When a body becomes addicted to the drug, stopping becomes difficult as it causes intense cravings and makes the user feel physically ill (withdrawal symptoms)
In the younger generation or teenagers, drug addiction starts with simple curiosity or what we commonly call drug experimentation. Usually, young people are daring by nature and all the hype that is caused about drugs all around them make them curious to experience the effect it has themselves. Seeing drugs on TV and movies make it look quite glamorous and fun and also show them how it makes a person act and feel differently. The curiosity to have that experience personally pushes them towards drug. This curiosity often leads to drug addiction.
Peer pressure is often one of the common causes of drug addiction.  Today's school and colleges are the biggest markets for drug sellers. Usually, young boys and girls want to appear cool and rebellious amongst friends and taking drugs often seem an extremely chic and smart thing to do. Therefore, without even realizing the danger and destructive nature of these drugs, young people often get into this habit just to get the approval of their friends.


No matter what the cause is, drug addiction is dangerous and has the potential not just to destroy a life but also extinguish it. Therefore, getting out of this habit is essential to lead a happy and healthy life.